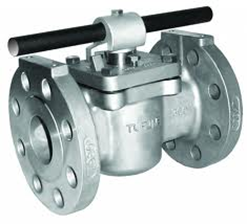 Acid resistant valves are required to handle hot strong acids like sulfuric acid (H2SO4) and hyrdrochloric acid (HCl). Because valves are sensitive to small amounts of acid corrosion, extremely corrosion resistant valves are utilized to avoid changes in valve tolerances that can lead to the inability to operate or control a valve. As a result, Ultramet CPT teamed up with leading valve OEM's can provide the most corrosion resistant and acid resistant valves to industry. If you want to eliminate acid corrosion instead of just dealing with it, the Ultramet CPT tantalum diffusion surface applied to standard stainless steel valves does just that.
Corrosion resistant plug valves are a simple design that features, ¼ turn shut-off, a 2 piece design, no dead spaces and are easy to repair even in-situ. For these reasons, this is a preferred design for the best acid control and corrosion performance.
Corrosion resistant ball valves are the most common valve in industry used for the control of hot acids. Ball valves allow for good control and ¼ turn shut-off however they are a 3 piece design typically have the dead spaces where fluids could be trapped.
Common applications for acid resistant valves are the control of hot hydrochloric acid (HCl) as it extremely corrosive to most metal plug valves and its vapors diffusion through PTFE lined plug valves as well as other sulfuric acid mixed media.
Other Acid Resistant Valves
While we the majority of valves we deal with are ball valves and plug valves, if you have a particular valve or valve style that you need to make extremely corrosion resistant please contact one of our materials specialist. The Ultramet CPT technology can be applied to most styles of valves. 
Sizes: ¼" -12"
Pressure Classes: ANSI 150 – ANSI 600
Connection Ends: Flanged, Threaded & Compression